Bryant University is the sixth best regional university in the Northeast and top among its peers for educational value and social mobility, according to the latest U.S. News & World Report rankings. Bryant made year-over leaps in key categories, which were propelled by the institution's Vision 2030 commitment to transformational learning experiences, exceptional outcomes, and developing passionate, purpose-driven leaders.
Recent accolades in the Wall Street Journal, The Princeton Review, and Niche also validate Bryant's impressive reputation for return on investment and academic excellence.
"The U.S. News & World Report rankings demonstrate the high value of a Bryant education, including our ability to impact the economic mobility of our students," says Bryant University President Ross Gittell, Ph.D. "Our university is focused on outcomes and student success, and it's clear our approach is working in a time when many families are weighing the worth of a college experience. With the momentum of Vision 2030, more students will have access to our transformational education."
READ MORE: Vision 2030 strategic plan
In addition to the regional ascent, from 7th in 2023 to 6th in 2024, Bryant was named among the best regional universities for value, landing at number 32 in the northern United States. That value is reflected in outcomes for Bryant's Class of 2022, which earned the strongest return on investment in institutional history with median earnings of $68,000 in the first six months following graduation — $13,000 more annually than the national average. Ninety-nine percent of Class of 2022 graduates were either employed or pursuing advanced degrees within six months of Commencement, according to data released in the spring.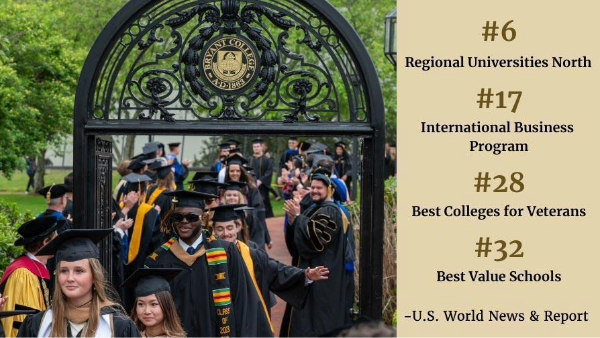 U.S. News also recognized Bryant in the social mobility category, ranking the institution 119th in the nation. Bryant Class of 2022 graduates with the strongest economic outcomes include alumni of color and Federal Pell Grant recipients, the latter of whom reported median earnings of $72,000 annually within six months of graduation.
RELATED ARTICLE: Class of '22 Pell Grant recipients, students of color earn strongest return on investment at Bryant
"These new rankings are a testament to our faculty, who work tirelessly in and out of the classroom to ensure Bryant remains an innovative leader in higher education," says Provost and Chief Academic Officer Rupendra Paliwal, Ph.D. "Our learners benefit from a cutting-edge curriculum, close faculty-student collaboration, and hands-on experiential learning opportunities. These experiences equip them with skills needed to confront today's data-driven challenges with a deep sense of passion and purpose." 
Bryant's immersive International Business program also advanced one spot nationally over the last year to number 17 in the country, according to U.S. News.
"The rigor of IB program — which includes a semester and internship abroad, a complex semester-long global business simulation, and an international consulting capstone — attracts smart and ambitious students who are eager to make a positive impact," says program director Jacqueline Saslawski, J.D. "Our students are active global citizens on and off campus and we are proud to have such talented IB students and a community of Bryant IB alumni all over the world."
RELATED ARTICLE: In IB practicum, students consult on real-world projects with global implications
Earlier this month, the Wall Street Journal ranked the university among the top 7 percent of four-year higher education institutions surveyed and considered for the annual poll. New methodology, for which student outcomes are weighted at 70 percent, resulted in Bryant soaring 116 spots from 227 in 2022 to 111 in 2024 and outperforming regional competitors including Northeastern University, Boston University, Bentley College, and Stonehill University, among others. The Wall Street Journal also ranked the university 54th in the nation for salary impact, naming Bryant the top school in Rhode Island for outcomes.
RELATED ARTICLE: Bryant climbs Wall Street Journal "Best Colleges" list to top 7 percent in the nation
Both the Wall Street Journal and U.S. News rankings come in the wake of the 2024 release of The Princeton Review's venerable Best Colleges guidebook, which named Bryant one of the best schools in the Northeast and recognized the university in three new categories, including Best College Library, Most Active Student Government, and Students Love Their School Teams. All three top-25 rankings reflect the university's Vision 2030 commitment to a vibrant student life. 
RELATED ARTICLE: Bryant earns accolades from the Princeton Review
Niche, a college search tool, also recognized the university for its Accounting and Finance programs, placing it at 66th in the nation. Bryant's College of Business also ranked among the top 8 percent of surveyed business schools, according to the annual report.