Maybe it's the haircuts?
The Bryant University men's soccer team became the America East conference tournament champs with its 1-0 double-overtime win against the University of New Hampshire on Sunday. Now it's on to the NCAA Tournament.
The packed Bulldog Room exploded in cheers when the matchup between Bryant and Ivy League tournament champ Yale University was announced during the NCAA Tournament Selection Show on Monday. Bryant's first-round match-up with Yale is scheduled for 6 p.m. Thursday at Beirne Stadium. The game will be broadcast live on ESPN+.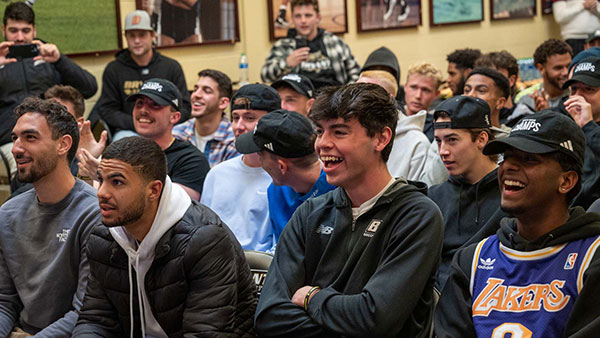 Under the guidance of head coach Ruben Resendes, who is in his first season with the Bulldogs, the team leads the nation in goal differential, shutout percentage, save percentage, and team goals-against average. The Bulldogs are also among the top 10 in goals scored average. 
"What an incredible achievement for our men's soccer program," said Bryant's Vice President of Athletics & Recreation Bill Smith. "Coach Resendes, his staff, and our student-athletes have put together a remarkable season and put Bryant on the map both regionally and nationally with their hard work and dedication. We are so excited to watch them represent this great University in the NCAA Tournament."
The multi-national team is close-knit, which the team views as integral to their unprecedented winning streak. "The team dynamics have to lot to do with the culture we have on and off the field," said defensive midfielder Pablo Ablanedo '24.
While Resendes expected the team to earn a first-round bye, giving players a small break before the start of the tournament, the Bulldogs were placed in the first round.
"They underrated us," Resendes said, adding, "but we're used to that." Still, the team is eager to get on the Beirne Stadium pitch to take on fellow Bulldogs Yale on Thursday.
Resendes believes the team's focus and determination on the field is a by-product of their relationship off the field.
"We try to recruit good people, not only good players," he said, noting it's this camaraderie that propelled the conference underdogs to the NCAA tournament. "We are fortunate to have good people and strong leadership who want the best for the team, the department, and the university."
"Winning the America East men's soccer conference championship brings a tremendous sense of pride to the entire Bryant community," said Bryant University President Ross Gittell, Ph.D. "The Bulldogs' success this season is a testament to the talent and dedication of the men's soccer team and the coaching staff. It also highlights our Vision 2030 commitment to provide student-athletes with the opportunity to showcase their skills and represent Bryant on the national stage."
Tickets to Bryant's first-round game against Yale are available at BryantBulldogs.com.