Bryant University's annual Family and Friends Weekend, held November 3 and 4, drew a record-breaking 7,500 visitors to campus, bridging the gap between students' academic home and their family roots.
"My favorite part of Family and Friends Weekend is that students get to introduce their families and friends from home with the family and friends they have found at Bryant," says Laura Field, associate director of student events and orientation programming. "Bryant is a second home for students, and it is important that parents and families get to see the bonds their students have formed here, meet their students' friends, and enjoy their students' favorite spots on campus."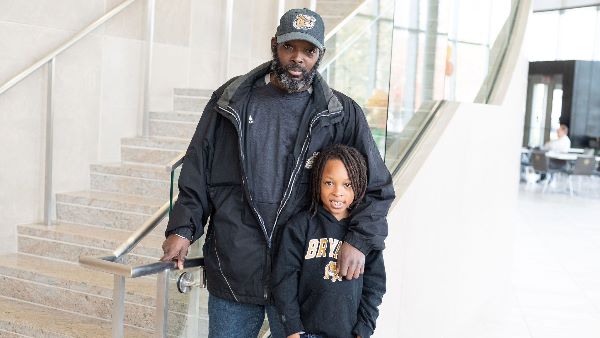 The weekend commenced Friday night with a Family and Friends Welcome Dinner held at Salmanson Dining Hall, followed by a Sip and Paint event at the campus art studio, where parents, students, faculty, and staff tapped into their artistic expression.
"Family and Friends Weekend is a time for the Bryant community, including students, faculty, staff, families, and friends, to enjoy engaging activities, delicious meals, and campus traditions together," adds Field. "For faculty and staff, it is a chance to celebrate students' accomplishments with the people who love them most."
On Saturday, families browsed the Harvest Market at the Quinlan/Brown Academic Innovation Center, which featured wares by student entrepreneurs and local businesses. Guests were then treated to a student talent showcase, with performances by Bryant dancers, musicians, and singers. 
Other attractions included a festival lunch, a duck race to benefit the Class of 2024, and a matchup between the Bryant Bulldogs football team against Gardner-Webb University.