The stakes are high for the team of high school students participating in the PwC Accounting Careers Leadership Institute (PwCACLI). Their future is literally laid out in front of them.
Fortunately, though, they have some help.
The group is engaged in a competitive, interactive workshop where they race against other PwCACLI teams to plot a potential path to career success from accounting intern to partner, learning the ins-and-outs of the profession and how to thrive in it. Every step of the journey, PwCACLI mentor Leandro Moro '21, '21 MPAC-Tax, one of several student and professional mentors for the program, is there to offer the team advice and encouragement — and to celebrate with them when their "promotions" are announced.
The game, says Moro — who himself took part in the PwCACLI as a high school student, returned as a student mentor during his time at Bryant, and now works as an experienced tax associate for PwC — isa microcosm of what makes the week-long overnight program special.
"Beyond the skills they learn and the relationships they form, the biggest thing I hope the students take away from the week is that they get to see things a little more clearly," he says. "They're coming up on a point in their lives where they'll have to make some big decisions — about where to go to college, what to study, and about their career — and we want to make sure they're prepared and have the information, and guidance, they need."
Learning about the future
Now in its 16th year, the PwCACLI, a partnership between Bryant University and PricewaterhouseCoopers (PwC), a leading professional services firm, offers rising high school seniors from diverse backgrounds a hands-on opportunity to learn more about the accounting profession and college life. The program is offered at no charge to the students, who are chosen through a highly selective process informed by their academic records, personal recommendations from teachers and advisors, and personal essays explaining their interest in the program.
This year's 41 participants includes students from across the country, including Puerto Rico, as well as Guatemala.
In addition to classes on auditing, data analytics, and taxes, the week's programming features sessions on presentation, group dynamics, networking, ethics and even a primer in sustainability. That broad curriculum gives students an advantage heading into both college and their careers, says Bryant Professor of Accounting Charles Cullinan, Ph.D., faculty lead for the PwCACLI.
The sessions are fast-paced, interactive, and encourage questions at every juncture. There's also a variety of experiential exercises, from games to team-building projects — like assembling bicycles that were presented to young children served by Children's Friend, a nonprofit aiding Rhode Island's most vulnerable youth, at the institute's closing session.
Throughout the week, the students put their newfound knowledge to work creating a business plan for an idea or product that they themselves develop, and then they present those plans to parents, faculty, mentors, and PwC representatives. The task is demanding, says Cullinan, but the experience the students gain is important preparation for future challenges.
"It's about showing that you need more than an idea and drive to create something," Cullinan explains. "You need the skills to make your idea happen and people around you to make it real."
Real accounting
When Moro first learned about the PwCACLI from his high school guidance counselor, it sounded, first and foremost, like an adventure. The South Easton, Massachusetts, senior didn't know much about accounting and Bryant University wasn't even on his radar for potential college options, but it seemed like a fun way to spend part of his summer.
"As a naïve high school kid, my first thought was, I'll get to travel away from home to a college campus for a week. It sounded pretty cool," he grins.
The week away turned into far more than a fun time, says Moro, a first-generation college student. "When you're thinking about college, you say to yourself, 'Oh I want to do finance, I want to do accounting. But what does that really mean when you're 17 years old?" he reflects. "My overall goal was that I wanted to find a place and pick a career that would set me up in the best way to be successful — and the PwCACLI helped me see that opportunity in accounting, at Bryant, and now with PwC."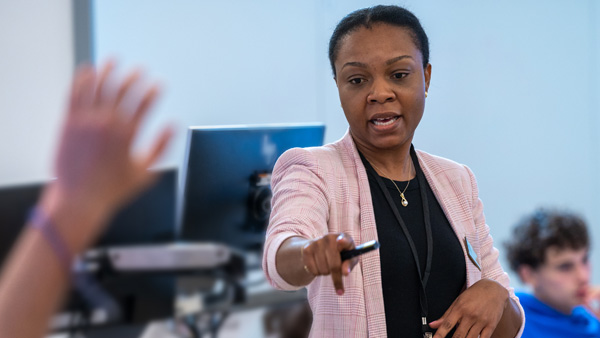 Nearly every PwCACLI session is taught by both a Bryant University professor and a PwC representative, who shares how the lesson relates to their job. Bryant students, many of whom study accounting, contribute to the high schoolers' success as student mentors.
"The best part is seeing the kids succeed," says Accounting and Finance double major Kylie Pereira '26, a student mentor this year. "Seeing their confidence grow and watching how so many of them come to love accounting as they understand it better makes me feel really good about the program and my role in it."
Making connections
In an early career planning session facilitated by Robert Calabro '88, a PwC senior partner and member of the Bryant Board of Trustees, Calabro corrected the misconceptions that surround the field: that it's boring, solitary, and antisocial. In reality, he told the students, it's far more dynamic than they could have ever imagined; accounting is a field for problem solvers who become expert investigators and protect both individuals and corporations.
"If you understand accounting, it will tell you the truth," says Calabro, PwC's lead for the program who was instrumental in its organization.
This real-world exposure makes the profession come alive, says Moro, who notes that the PwCACLI's annual field trip to PwC's office in Boston helped solidify his decision to pursue accounting. "Where else do you get to ask PwC partners real questions and get real answers?" he asks.
The key to the PwCACLI, says Moro, is community, and it's one of the reasons he keeps coming back — first as a student mentor and now as a PwC mentor. "One of the things that opened my eyes was how much everyone involved in this cared about the students and wanted to make a difference," he says. "And I decided that's something that I wanted to be a part of."
With that sense of camaraderie as its base, it's no coincidence the PwCACLI has a track record of success. "With so many people working together, from PwC, from Bryant, students, professors, professionals — it's going to make an impact," he notes. 
Moro and Calabro see that impact firsthand during the interactive workshop where students simulate their paths through the accounting profession. As the teams near the end of the career planning exercise, Calabro winds his way through the teams, offering final bits of advice and encouragement.
"How are we doing?" he asks one group who was just named partners.
"We're working at your level now," Miranda Gerardino, a high school senior from Puerto Rico, notes with a laugh, before she and Calabro share a high-five.